The Jeremy Lin Show goes global (+video)
Jeremy Lin isn't just big in the Big Apple. Jeremy Lin is emerging as a star in Canada, Britain, Taiwan and China.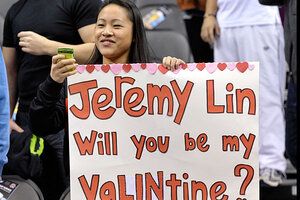 REUTERS/Mike Cassese
Talk about flying under the radar.
The Christian Science Monitor is based in Boston, across the Charles River from the US's oldest university, Harvard. Few but the most ardent sports fans in this newsroom had ever heard of Jeremy Lin, the Crimson point guard who finished his college career in 2010. He was not picked in the NBA draft. He rode the bench for three different NBA teams.
But Jeremy Lin has suddenly emerged – not just in New York or Boston or the US. He's now a global phenom.
Canada got a taste of "Linsanity" after Tuesday night's last-second shot for a New York Knicks win over the Toronto Raptors. The Toronto Star ran an article putting Lin's winning shot – against the hometown Raptors – on their "short list of thrilling sports moments in Toronto." And this is a country that worships hockey, above all.
---