Peyton Manning: Which team can protect him best? A dark-horse favorite.
Peyton Manning has said he wants to choose his new team within a week. What factors will be most important to him? A strong offensive line could be a big plus.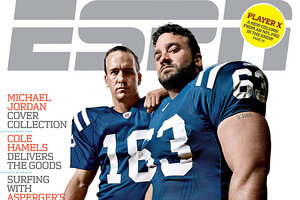 BusinessWire
By some counts, 14 teams have expressed interest in Peyton Manning since the Indianapolis Colts cut him Tuesday night. Of those, the teams considered serious contenders to land the future Hall of Famer include the Miami Dolphins, the Arizona Cardinals, the Seattle Seahawks, The Washington Redskins, the Houston Texans, and in somewhat of a surprise, the Denver Broncos.
Reportedly, Manning is visiting Denver Friday and will make subsequent visits to Phoenix and Miami. Manning says he wants to make his decision within a week, and it seems he has his pick.
He has a slew of factors to weigh when choosing a team. Off the field, he'll want a team that will allow him enormous license in running the offense. On the field, wide receivers will be a big consideration – a quarterback, after all, needs someone to catch his passes. But this late in his career, just as important may be a good offensive line that can protect him.
"At this stage, I'd say that the O-line is more important to him than the receivers," says Mike Tanier, a contributor to The New York Times Fifth Down blog and a staff writer at FootballOutsiders.com. "You can make the receivers better. That's what he was doing the last three years in Indianapolis. But he knows that to make the receivers look good he's got to be upright."
---