Magic Johnson film: how views of HIV have changed since 'The Announcement'
Magic Johnson narrates 'The Announcement,' an ESPN film about his announcement 20 years ago that he had been diagnosed with HIV. The film comes at an important time, experts say.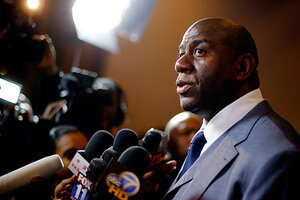 Joe Kohen/AP
Earvin "Magic" Johnson played on five National Basketball Association championship teams, was the league's most valuable player three times, and was a 12-time all star. All of which fed the otherworldly astonishment that accompanied his announcement on Nov. 7, 1991, that he had been diagnosed with HIV and was retiring in his playing prime from the Los Angeles Lakers.
Now, more than 20 years later, Mr. Johnson narrates a documentary on the subject that includes a "who's who" of NBA stars past, from Larry Bird and James Worthy to Karl Malone and Jerry West. The film premiered Sunday on ESPN and is scheduled for 12 more showings through April 14.
Johnson has been applauded for being the first African-American to put a face on a disease that was initially stigmatized as being linked with homosexuality but has since spread across Africa and throughout some parts of the African-American community.
"This 20-year anniversary is absolutely a milestone. At the time, this was an absolutely unique event," says Jorge Parada, director of infectious disease and prevention at Loyola University Health System, via e-mail.
Underscoring the continued need for the awareness that the film raises, a March 8 study shows HIV rates for urban black women are five times higher than estimated. The study looked at six urban areas considered HIV hotspots: Baltimore; Atlanta; Washington; New York; Raleigh-Durham, N.C.; and Newark, N.J. Overall in the US, 66 percent of the women diagnosed with HIV are black – nearly 15 times the figure for white women.
---