NCAA bracket busters and the Sweet 16
A historic weekend in the NCAA men's basketball tournament saw more than its share of momentous upsets, shattering both convention and fans' brackets. The 'Sweet 16,' featuring the sixteen remaining teams, begins March 22nd.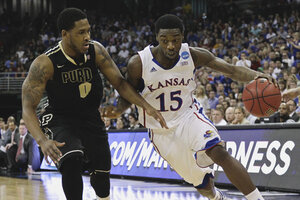 Nati Harnik/AP
Are your brackets officially busted? If so, you're not alone. But if you're a college basketball fan, Friday night's action in the NCAA men's tournament was must-see television. Thursday provided few surprises, but Friday's games were nothing if not bracket busters. The upstart lower seeds got into the action in a big way – first with the fifteenth-seed Norfolk State University Spartans devastating number two-seed Missouri 86-84 in their West regional second round game.
About two hours later, No. 2 seed Duke fell to Lehigh University 75-70 in the second round of the South regional. Not to be outdone, thirteen-seeded Mid-American Conference champion Ohio University outplayed a taller and more athletic Michigan squad, winning 65-60 in their opening Midwest regional action.
Iowa State's defeat at the hands of Hampton University in 2001 was the last time a fifteen-seed had beaten a two; but this day provided two within as many hours. But as for the tournament as a whole, Friday capped off an historic day in college basketball in that for the first time in tournament history, nine double-digit seeds advanced to the third round.
---