Saints' Sean Payton suspended for 2012 NFL season over player bounties
The NFL has ruled that New Orleans head coach Sean Payton must sit out all of next season. Gregg Williams, his former defensive coordinator and bounty instigator, is suspended indefinitely.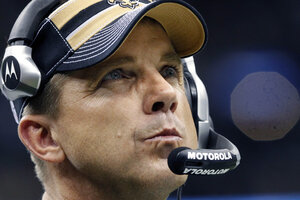 Rusty Costanza/AP/File
The National Football League announced Wednesday that New Orleans Saints head coach Sean Payton has been suspended for the upcoming season without pay for condoning player bounties instituted by former Saints defensive coordinator Gregg Williams, according to NFL.com.
The league also announced that Williams, recently hired as the St. Louis Rams defensive coordinator, has been suspended indefinitely without pay. The Sporting News reported that Williams may have begun bounty programs on other franchises where he coached. Also, Saints assistant head coach Joe Vick has been suspended for the first six games of 2012.
The bounty program, which first came to light last month and goes back two seasons, paid Saints defensive players thousands of dollars for injuring opposing players and causing them to leave games, according to SI.com.
ESPN.com reports that in addition to the coaches penalties, Saints general manager Mickey Loomis has been suspended for eight games next year and fined $500,000. The Saints franchise has been fined $500,000 and will give up second-round draft choices in 2012 and 2013.
---