Mark Sanchez and Tim Tebow: A match made in heaven?
Mark Sanchez will be the New York Jets starter, but Tim Tebow could make the offense more dynamic as a situational player. Or the whole thing could blow up in the Jets' face.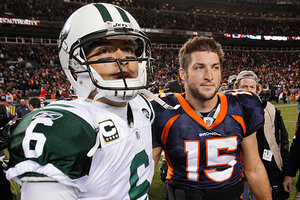 Barry Gutierrez/AP/File)
The Great Contract Snag of 2012 has been untangled, and now Tim Tebow, officially, is headed back east to play for the New York Jets.
The Jets have agreed to pay half a $5 million salary advance due Tebow, meaning that the biggest star in the National Football League (sorry, Peyton) heads where, perhaps, he naturally belongs: the one city big enough to handle Tebowmania.
So what does this all mean for Tebow, the Jets, and other teams around the NFL? Let's break it down:
The Good
From a career standpoint, Tebow could do far worse. Going somewhere with an undisputed starter, like Green Bay or New England, would guarantee his riding the bench for at least few years, if not longer. Go to a place like Jacksonville, with little national relevance and a dearth of stars, and the pressure to succeed and carry the team on his shoulders would be intense.
The New York Jets, though, have perhaps just the right level of talent and distraction to give Tebow the opportunity to dazzle without it being an immediate necessity.
---