Former Saints player did not grant release of Gregg Williams audio
The audio recordings – of former Saints defensive coordinator Gregg Williams urging his players to injure opposing players – were made public without Steve Gleason's permission. Gleason, a former Saints player who's the subject of a documentary film project, says the filmmaker released audio without consulting him.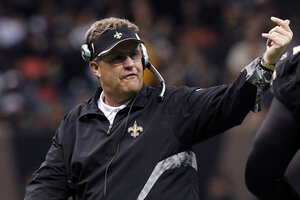 Gerald Herbert/AP/File
Former New Orleans Saints defensive back Steve Gleason says he did not grant a documentary filmmaker permission to release audio of former Saints defensive coordinator Gregg Williams instructing his players to knock certain San Francisco 49er offensive players out of last January's NFL playoff game.
USATODAY.com reports that Gleason felt betrayed by filmmaker Sean Pamphilon.
"A multitude of feelings have passed through me. I feel deflated and disappointed. I feel frustrated and distracted. Nevertheless, these feelings will pass, and I will continue steadfast in my mission," Gleason said.
NFL.com reports the film documentary project about Gleason, who's battling a neuro-muscular disease, had special access to Saints team activities, including the pre-game meeting between Williams and his players.
RECOMMENDED: Where does Peyton Manning rank among NFL quarterbacks
Yahoo! Sports first reported that Pamphilon decided to released the chilling audio on his website Thursday, providing fresh details about the Saints defensive bounty program and the overt way Williams encouraged Saints defenders to injure opposing offensive players for money.
---