NFL Draft 2012: Watch for quarterbacks in the early rounds
NFL Draft 2012: As in baseball, so in the NFL: You can never have enough good arms. After Andrew Luck, which quarterbacks will get picked early in the NFL draft?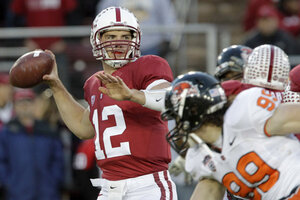 Paul Sakuma/AP/File
The National Football League begins its annual roster restocking, otherwise known as the NFL Draft, this Thursday night. It will take place over three days at Radio City Music Hall in New York City.
Indianapolis, trying to rebuild after the Peyton Manning era and a 2-14 record in 2011, has the first pick Thursday night. Tuesday, the Colts announced they will take Stanford's Andrew Luck with the first pick, according to FoxSports.com.
"In fairness to Andrew Luck and in fairness to the whole process — the media gauntlet he's going to be enduring the next couple days — I thought it was the right thing to do to announce that we're going to take him," said Colts general manager Ryan Grigson. "I didn't see the point in prolonging what the world already knows."
Redskins head coach Mike Shanahan is also looking for a quarterback as he tries to re-establish a potent Washington offense and reportedly is leaning towards Baylor's Robert Griffin III, according to the Washington Post.
---