Spurs go 'old school' to beat Clippers in Game 1 of NBA Western semifinals
San Antonio's version of the 'Big Three' - Tim Duncan, Tony Parker, and Manu Ginobili - led the Spurs' effort Tuesday night against the LA Clippers.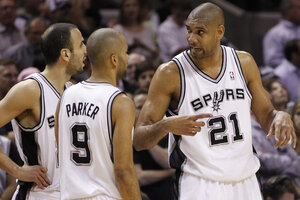 Mike Stone/REUTERS
Methuselah just might have been envious this week.
First, the Boston Celtics' Kevin Garnett, playing in his 17th professional season, had 29 points and a double-double Saturday en-route to defeating the Philadelphia 76ers.
Tuesday night, the Spurs' center Tim Duncan, a fourteen-year NBA veteran, racked up 26 points and ten rebounds to light up the highly athletic and youthful Los Angeles Clippers, 108-92, in San Antonio. The Spurs lead the Clippers, one game to none, in the best-of-seven NBA Western Conference semifinal series.
Duncan's was as age-defying a performance as there's been in recent memory – as if he just teleported in with H.G. Wells' Time Machine, or Ali Baba's flying carpet.
The way Duncan moved all night was worthy of a Balanchine dancer: rolling around on the pine to fight for loose balls and then acrobatically tossing them to teammates, pirouetting in the key to make hook shots with either arm (and on one occasion with his back to the basket), and following those with twenty-foot jump shots as smooth as vanilla ice cream (and just as delicious).
Los Angeles is stacked with star talent like point guard Chris Paul and power forward Blake Griffin. But last night, it was just like another day at the office for the old guys from San Antonio.
The Spurs' core of Duncan and guards Tony Parker and Manu Ginobili – who have thirty-three years of NBA experience among them – is nothing if not simpatico. They've been together for ten years, and the way in which they move the ball around the court is as effortless as a top spinning on glass.
---