Boston Celtics' trident skewers Philadelphia 76ers
The Celtics' three-pronged attack was too much for the Philadelphia 76ers Wednesday night. Celtics 107, 76ers 91.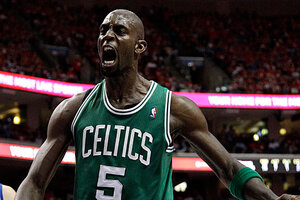 (AP Photo/Matt Slocum)
If you were looking to teach a clinic on what it takes to win an NBA basketball game, this would be exhibit A. The Boston Celtics, visiting the Philadelphia 76ers Wednesday night, showed what happens when you combine protecting the basketball with a powerful scoring offensive. Stunned by losing their game with Philadelphia on Monday night by one point in an anemic offensive display, the Celtics regrouped and took the crowd out of this game by the second quarter.
In Monday's disaster in the T.D. Garden, the Celtics scored a whopping 57 points in three quarters. Wednesday night, they improved that total to 89. Three of Boston's starters logged double-doubles: Paul Pierce, sprained MCL and all, logged 24 points and added 12 rebounds; Kevin Garnett was his ageless self again, with 27 points and 13 rebounds, and Rajon Rondo sharpened the last tine on the trident, with 23 points and 14 assists. Mickael Pietrus was strong off the bench, hitting three of four three-point shots at strategically important times and helping to give starters much needed rest.
In fact, the score wasn't even as close as it would suggest – the starters were out of the game by the fourth quarter. Boston's field goal percentage for the game was 52 percent, which was 11 percent better than Philadelphia's.
During the regular season, the Celtics were 24th in the NBA in total offense efficiency; in other words, fourth from the bottom. Critics have justifiably suggested that the Celtics could be their own worst enemy if they don't pick up their offensive output – that their margin for error is very narrow. It would appear, for the moment at least, that the Celtics have silenced those naysayers.
---