NBA playoffs: One series settled, others still up for grabs in weekend action
NBA playoffs: San Antonio is through to the Western Conference finals, awaiting the Thunder-Lakers winner. In the East, it's going to take a little longer between the Heat and Pacers and Celtics and Sixers.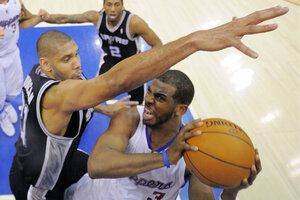 Mark J. Terrill/AP
The Philadelphia 76ers proved that they are resilient and capable of mounting comebacks in what could be called an improbable Friday night victory over the Boston Celtics, 92-83, to knot their semifinal series at two games apiece. Game 5 is Monday night in Boston.
The Celtics held a 46-31 advantage at halftime and the 76ers were shooting abysmally at just over twenty percent from the field. But they never relented in the second half and showed the sea of their red-shirted fans at the Wells Fargo Center that they have what it takes to win under pressure.
Over this series, each team has amounted to the equivalent of Robert Louis Stevenson's Dr. Jekyll and Mr. Hyde; with stellar and mediocre performances in alternating games. Philadelphia's bench was a major reason for their Friday evening reawakening. Combined, they scored 44 of Philadelphia's 92 points (very helpful when considering that starting big men Elton Brand and Spencer Hawes had a combined total of five points). As a team, the 76ers also hit 46% of their three-point shots (5 for 11), and grabbed 52 boards to Boston's 38. Lou Williams, considered a crucial part of Philadelphia's offensive strategy, had been subpar until Friday night – where he tallied 15 points and eight assists. If he gets hot, it could spell trouble for Boston going forward.
---