'Dynamic Duo' proves too much for Pacers as Heat advance
Dwyane Wade scored 41 points and LeBron James added 28 to lead the Miami Heat to a Game 6 victory over the Indiana Pacers Thursday night in Indianapolis. Miami now advances to the Eastern Conference final and awaits the winner of Saturday's Celtics/76ers game.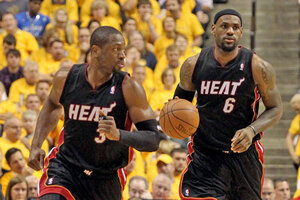 Al Diaz/Miami Herald/AP
LeBron James and Dwyane Wade once again showed why they are the most feared tandem in the NBA, scoring a combined 69 points as the Miami Heat torched the Indiana Pacers, 105-93, at Indianapolis' Bankers Life Fieldhouse Thursday night. Having won their semifinal series against the Pacers, four games to two, Miami now moves on to face the winner of Saturday's game between the Boston Celtics and the Philadelphia 76ers in the Eastern Conference Final.
James' and Wade's were nothing less than a virtuoso performance, pulling away from the frustrated Pacers in the fourth quarter like Secretariat at the 1973 Belmont Stakes. Wade, ignoring the Indiana fans' taunts of "flop-per, flop-per," quieted the room with a stellar 41 points and 10 rebounds, while James scored 10 of his 28 points in the fourth quarter to put the finishing touches on Indiana, who had seen their first half advantage wither in the face of a 13-3 Miami scoring run at the end of the third. In fact, that particular stretch has been the nemesis of the Pacers, with Miami outscoring them 85 to 49 during the series (16 Thursday night), and shooting a paltry 32 percent from the field.
---