Celtics woeful in Game 1 loss. Can they beat the Heat?
The Heat dismantled the Boston Celtics Monday night in the first game of their Eastern Conference Finals matchup. The loss now leaves the Celtics looking for answers in solving Miami's twin threat of LeBron James, and Dwyane Wade.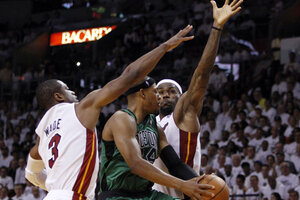 Lynne Sladky/AP
Miami's LeBron James was having a lot of fun during Monday night's game; so much so, in fact, that at one point he couldn't help but snicker in the face of Boston Celtics forward Kevin Garnett.
It was an embarrassing and telling moment for a proud Celtics team that could manage only a meager 79 points in losing the first game of the Eastern Conference Finals to the Heat, 93-79, at American Airlines Arena in Miami. With such a poor performance, Boston has made it all too easy for critics to suggest that the Celtics, particularly as Garnett and Ray Allen's contracts are up this season, may not make it to another Eastern Conference championship, let alone another ring to go with 2008's NBA title.
Boston's "three musketeers" of Garnett, Allen and Paul Pierce – along with their "D'Artagnan" in the person of Rajon Rondo – have already been hobbled with injuries to Pierce, Allen, and guard Avery Bradley. But Monday night they suffered the additional disadvantage and indignity of two technical fouls and a delay of game penalty in the first period that ignited the Heat as well as their home fans and short-circuited any attempts by the Celtics to gain momentum. As it turned out, they scored only 11 points in the first period, but did manage to regain some equilibrium to tie the Heat, 46-46 at the half.
---