Celtics escape in Game 4 thriller to beat Heat, 93-91
Boston survived a second-half implosion to defeat Miami in overtime Sunday night. Action now moves to Miami for Game 5 on Tuesday night (ESPN, 8:30 p.m. Eastern).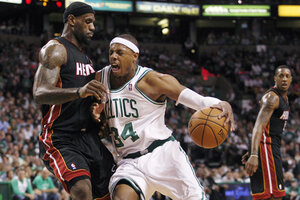 Elise Amendola/AP
The Boston Celtics scored 61 points in the first half Sunday night, and needed every one of them as they squeaked past the Miami Heat, 93-91, in overtime to knot their best-of-seven Eastern Conference Finals series at two games apiece.
The Boston Garden faithful got what they paid for, as the Celtics avoided defeat in the waning moments of the five-minute extra period when the Heat's Dwyane Wade missed an open three-pointer. With LeBron James fouling out with just under two minutes remaining in regulation – his first time doing so as a member of the Heat – it was up to Wade, as the only member of their "Big Three" still on the floor, to carry the load in overtime. However, Miami, who had charged back from as many as 18 points down in the first half, managed only two in the extra session. It was the first overtime playoff loss in Heat history against six victories.
---