Belmont Stakes: I'll Have Another won't run, but it's still a horse race
I'll Have Another is out of the Belmont Stakes due to an injury. At least three horses have legitimate chances of winning Saturday.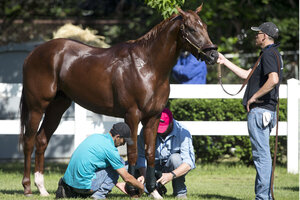 Mike Groll/AP
After the shock of Friday's announcement that I'll Have Another will not run in Saturday's 144th Belmont Stakes wears off, horse racing observers and fans will return to the realization that a million-dollar race will still go off early Saturday evening.
There are three horses that were expected to give I'll Have Another strong challenges and now will be looked upon as potential favorites.
Dullahan is one of the 10 remaining horses in the field. He finished third in the Kentucky Derby on May 5. After not racing in the Preakness three weeks ago, the colt is back for the mile and a half run. Dullahan will start in the No. 5 post position.
"Five is as good as any,'' trainer Dale Romans told the Associated Press. "It doesn't matter going a mile and a half with my horse. I didn't want to be down on the rail or way outside.''
Also held out of the Preakness, Union Rags is back for another shot at a Triple Crown race victory. The 3-year-old colt finished seventh in the Kentucky Derby, but was projected to give I'll Have Another a test Saturday, according to SportsNetwork.com.
---