College football may get a Final Four – and millions in new revenue
The proposed playoff structure marks a big philosophical shift within the world of college football and opens the door to a Cinderella team winning a national championship.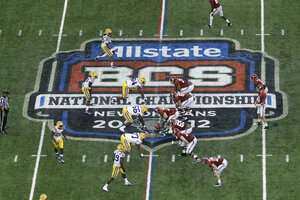 Bill Haber/AP/File
College football fans, you're about to get your very own Final Four.
The sport went one step further in transitioning to a partial playoff structure Wednesday, giving legions of fans and analysts what they've been screaming for as long as there has been a BCS (14 years). All 11 BCS commissioners, along with Notre Dame athletic director Jack Swarbrick, publicly endorsed a model for a four-team, seeded playoff to determine a national champion.
"I think there's going to be a lot of pluses to this," ACC commissioner John Swofford told reporters after Wednesday's announcement in Chicago. "You've got the financial aspects of it, the transparency aspect of it. I think it will be better understood, by the public. I think it will be, if it comes to fruition, a definite step forward for college football."
The next stop for the playoff proposal is Washington, D.C., where the commissioners will present it for approval by the BCS presidential oversight committee next Tuesday. Before any further specifics are announced, the commissioners have said they will discuss the playoff model with university presidents and athletic directors from their respective conferences.
---