End of 'Linsanity'? New York Knicks fans brace for Jeremy Lin exit.
The New York Knicks have another day to up their offer to star point guard Jeremy Lin, but fans sense that last season's sensation is heading for Houston – and they're OK with that.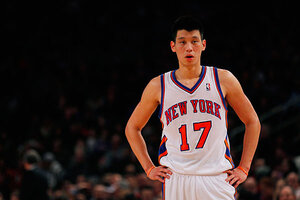 Adam Hunger/REUTERS/File
Although the New York Knicks management has until 11:59 p.m. Tuesday to announce whether they'll match the Houston Rockets' $25 million, three-year contract offer for Jeremy Lin, most Knicks fans seem resigned to the idea that the electrifying player will be moving on.
But the move is still being debated online, with some arguing that Lin is worth keeping – both as a player and for the inspiration and energy he brought to the struggling Knicks this season.
So what's the value of Lin's inspirational factor? His ascent from being an undrafted backup cut from three NBA rosters to star point guard took the world by surprise – and it had Madison Square Garden "roaring like it hasn't in a decade," according to New York Magazine.
Many fans see him as a stereotype-busting role model. Not only was a religious Harvard graduate starting in the NBA, but with Taiwanese parents, Lin is the first American-born NBA player of Taiwanese or Chinese descent.
"I hope he stays, but I don't know if it's going to happen with all that money," says Jack Goldenberg, a student, after he walked out of the NBA Store here. "I think a lot of people look up to him, it's something to have someone of a different ethnicity repping our team."
Not only is he admired, but Lin has also been a financial phenomenon for both the Knicks and the NBA. New York stores couldn't keep Lin jerseys in stock last February, and Lin has more than 800,000 Twitter followers, plus more than 2.8 million followers on the Chinese microblogging site Sina Weibo.
---