Penn State aftermath: Fired former president denies knowing of abuse
Even as Penn State tried to digest the severe NCAA sanctions imposed on its athletic program, the school's former president, Graham Spanier, says he 'hadn't the slightest inkling' about the systematic sexual abuse.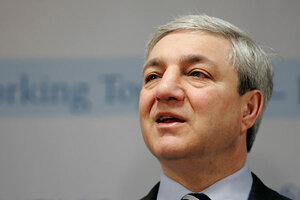 Carolyn Kaster/AP/File
Former Penn State University President Graham Spanier says an investigative report released early this month is inaccurate regarding his role in the alleged cover-up of a sexual molestation scandal involving Jerry Sandusky, the former assistant football coach.
In a letter sent to university trustees and published by ESPN Tuesday, Mr. Spanier says he "hadn't the slightest inkling" about the systematic abuse by Mr. Sandusky until the release of a grand jury report last year that revealed systematic abuse by Sandusky over a 15-year period.
"Never would I stand by for a moment to allow a child predator to hurt children. I am personally outraged that any such abusive acts could have occurred in or around Penn State and have considerable pain that it could perhaps have been ended had we known more sooner," he writes.
An internal investigative report prepared by former FBI Director Louis Freeh concluded that the decades of hero worship associated with Penn State's football program resulted in top university officials – including Mr. Spanier and famed football coach Joe Paterno – looking the other way when it became apparent that Sandusky, an associate football coach, was molesting minors in athletic department lock room showers.
Also Tuesday, Spanier attorney Peter Vaira told the Associated Press that Spanier himself was a victim of physical abuse by his father, who broke his nose on several occasions.
---