Peyton Manning: Denver hopes he's 'comfortable' as NFL preseason kicks off
Peyton Manning debuts in a Broncos uniform Thursday night for an NFL preseason game in Chicago. John Elway says the veteran QB will play 'one or two series.'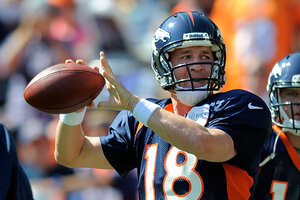 Jack Dempsey/AP
Peyton Manning will play his first NFL game in a Denver Broncos uniform Thursday night, 18 months after being sidelined by neck injuries and 6 months after saying goodbye to the Indianapolis Colts.
Well, OK, "game" might be exaggerating a bit. Manning probably won't take more than a few snaps when the Broncos visit the Chicago Bears, headlining a slate of six evening games that will get the NFL preseason fully underway.
The Broncos brass won't expect too much from Manning during his first outing. "It's just [about] him getting more comfortable," head coach John Fox told NFL.com "This is a pretty good situation for him, but it's still the first time. So getting him comfortable is probably the biggest thing."
Broncos president John Elway told reporters that Manning would play "one or two series" depending on two things: The success of the Broncos' opening drive, and the amount of time the first-team offensive line is on the field.
"If things go well right off the bat, have a nice scoring drive, then get him out," Elway said. "You don't want to have three three-and-outs. You want to get some confidence, get some first downs, and maybe put some points on the board. If we do that, get him out."
Preseason games, of course, mean zilch when it comes to how well any team, or player, will fare during the regular season. Their main function is determining a team's supporting cast: the starters barely play, and the second- and third-stringers fight to get noticed while coaches make their final cuts.
---