Lance Armstrong may lose Tour titles: justice for doping or a witch hunt?
The cyclist – a breathtaking seven-time winner of the prestigious Tour de France – will be stripped of all his titles, medals, and earnings from races, after deciding to stop fighting allegations of illegal doping.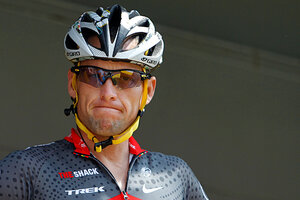 Christophe Ena/AP/File
Travis Tygart, the chief US antidoping executive, has tailed Lance Armstrong for years, spurred on by what he saw as steadily building evidence that the greatest American cyclist ever had cheated his way to seven Tour de France titles.
On Friday, Tygart's efforts paid off. Armstrong, who for more than a decade had pushed past doping allegations as though they were hapless peloton riders, said Thursday he would not seek to arbitrate the United States Anti-Doping Agency's charges against him, allowing USADA to claim victory by banning the 40-year-old rider for life from involvement in any sport that follows the World Anti-Doping Code. It also vowed to have Armstrong stripped of his historic seven Tour de France titles.
While Armstrong did not admit guilt, World Anti-Doping Agency president John Fahey said the ex-cyclist's decision to stop fighting the allegations prove that they "have substance to them."
For Armstrong, the prospect of hashing out testimony about alleged blood transfusions and discarded hypodermic needles was not only distasteful, but the process may have done more damage to his stature than if he simply quit the fight and may have doomed current and future endorsements, suggests Brad Weiners, a BusinessWeek sports columnist.
---