College football 2012: Who are the favorites to win it all?
Labor Day weekend marks the start of the chase for a national championship: Which teams are picked to meet for the title next January?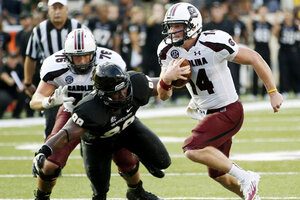 John Russell/AP
The arrival of Labor Day weekend marks the beginning of the 2012 college football season, where 120 colleges and universities will try to reach the NCAA's Football Bowl Subdivision national championship game Jan. 7, 2013 in Florida.
Any number of publications and websites have made their choice for the preseason No. 1 team in the nation. The Associated Press poll has the University of Southern California at the top of their list. The Trojans feature senior quarterback and Heisman Trophy candidate Matt Barkley, who's expected to lead a high-powered offense. USC begins the season with a home game against Hawaii Saturday night in Los Angeles.
ESPN power rankings coincide with the AP's top choice with USC just edging out Louisiana State University by one point.
Louisiana State University, out of the Southeastern Conference, is atop the USA Today Top 25 list, going into the first weekend of the 2012 season. The Tigers have experienced players returning on both offense and defense and should handle North Texas Saturday night in their home opener, despite the interruption in game preparation this week provided by Hurricane Isaac.
---