Dallas Cowboys vs. NY Giants: Who else to watch in NFL Week 1?
For the first time in 60 years, the National Football League begins on a Wednesday: NY Giants vs. Dallas Cowboys. What are the other key NFL matchups this opening week?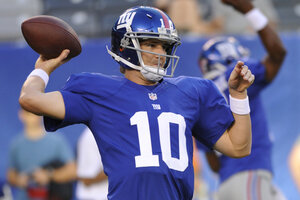 Bill Kostroun/AP
With the advent of September comes another fall of professional football in the US.
The 93rd National Football League season starts Wednesday night in the New Jersey Meadowlands as the defending Super Bowl champion New York Giants host their National Football Conference East rival, the Dallas Cowboys.
Cowboys quarterback Tony Romo sounds eager to begin the new season with a tough test.
"As a competitor and as an athlete, you love that you get to go back and challenge someone like that, especially the world champs. That's going to be a great test for our football team," Romo told NFL.com.
The game will be televised by NBC, beginning at 8:30 p.m. Eastern time.
The NFL has a variety of story lines going into this first week of the season, including the Manning brothers.
After leading the Giants to their second Super Bowl win over the New England Patriots in the past four seasons last February, Eli Manning now has twice the number of championship rings as his older brother Peyton.
---