NFL replacement refs: admirable effort or unacceptable incompetence?
The NFL is sticking by its replacement refs, saying they're performing admirably. But after a Monday night game in which the refereeing clearly interrupted the game, pressure is building.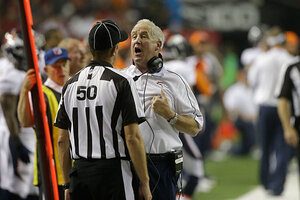 John Bazemore/AP
With the National Football League's 121 regular referees literally sitting on the sidelines as the result of a labor lockout, a group of zebra-striped replacements from college football's lower divisions has been charged with creating order out of the chaos that is an NFL football game.
After struggling in the preseason and Week 1, the replacement referees were close to disastrous on occasion this past weekend. Week 2 saw the replacements make a string of noticeable and time-consuming errors, including blown and reversed calls, poor management of games where player tempers spiraled out of control, and misapplication of the rules – all of which noticeably detracted from the natural rhythm of the game.
The NFL, which experimented with replacement players during the 1987 lockout, had high hopes that fans wouldn't notice much difference with replacement referees this year. But the comedy of errors Sunday and Monday brought the refereeing lockout to the forefront, raising the reputations – and bargaining leverage – of the regular referees.
The question is whether the NFL will care. With the league as popular as ever, some experts say it could take a game-changing blunder or a serious injury to force the NFL to meet the referees' demands.
Still, Week 2 will increase pressure on the NFL. "These missed calls and concern about the sanctity of the game is the best thing that could have ever happened for the NFL referees," says Marc Edelman, a sports law professor at Barry University in Miami Shores, Fla. "The NFL's position here is that the referees are fungible … [but the refs' Week 2 performance] substantiates that they're not replaceable. The greater the deviation is between regulars and replacements, the greater the demand is to pay the regular referees more."
---