Steve Sabol of NFL Films remembered as visual visionary
Steve Sabol, the co-founder of NFL Films, passed away on Tuesday. Sabol and his father Ed brought the personal touch to America's violent game and put their product into almost every American living room.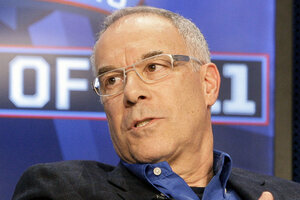 Tony Gutierrez/AP/File
For any young pro football fan growing up in the US in the late 1960s and early 1970s, NFL Films was your cinematic-style ticket to an up close and personal look at the game.
Ed Sabol founded NFL Films in 1964, and along with son Steve, made it into the video and multimedia producing powerhouse it is today. NFL Films produces weekly NFL shows, team season highlight reels, and long-form profiles of NFL players and coaches.
Steve Sabol passed away on Tuesday after a long illness. Tributes to his NFL contributions are numerous.
"Steve Sabol was the creative genius behind the remarkable work of NFL Films," NFL Commissioner Roger Goodell said in a statement to the Associated Press. "Steve's passion for football was matched only by his talent and energy. He was a major contributor to the success of the NFL, a man who changed the way we looked at football and sports, and a great friend."
Former Washington Redskins quarterback Joe Theismann measured Sabol's impact on the NFL by referencing the human anatomy.
---