'Inaccurate Reception' got NFL and refs back to the labor table – and fast
The botched call by replacement refs Monday broke the impasse in the referee labor lockout, signaling that outraged fans, sponsors, Vegas bookies, and fantasy sports players have real clout.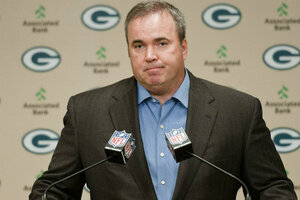 Lukas Keapproth/The Green Bay Press-Gazette/AP
Players and coaches moaned, swore, and even got fined for displaying their exasperation at the hapless replacement refs who had made a hash of the first three weeks of this National Football League season. But in the end, it was NFL fandom – Wisconsin cheeseheads, Vegas bookmakers, big-name sponsors, and fantasy football players – whose howling outrage at the so-called Inaccurate Reception on Monday night got the ball moving toward breaking the NFL's lockout of 121 regular officials over pay, pensions, and accountability.
A seemingly blown call by the replacement officials – ruling a last-second, Hail Mary pass by the Seattle Seahawks a reception rather than an interception – cost the Green Bay Packers the Monday night game and made it clear to nearly everyone involved that the NFL season was sliding quickly toward surrealism, or at least becoming, as ESPN analyst Jon Gruden pointed out, a tragicomedy.
As a result, the NFL and its regular refs reached an agreement just after midnight Thursday to end a month-long lockout and send a cohort of earnest, but ultimately underprepared replacements home.
The botched call on Monday became one of the first refereeing calls to ever turn into a bona fide "national event," says Vermont Law School sports expert Michael McCann, as sports lounges and living rooms across the country erupted in confusion and outrage, and the postgame show got a record rating.
---