Baseball playoffs: Win and you're in on Wild Card Friday
The Braves, Cardinals, Orioles and Rangers all have a one-game shot to continue playing meaningful baseball games this weekend.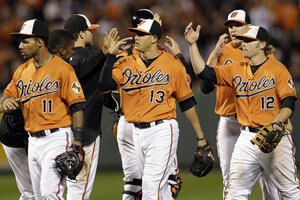 Patrick Semansky/AP
Major League Baseball commissioner Bud Selig got his wish this season: Several MLB teams in both leagues, beyond the division leaders, had a chance to reach the postseason. That means, as the quest to play in the World Series continues, the number of teams still in contention bodes well for keeping enthusiasm, as well as the TV ratings, high.
Now Texas, Atlanta, St. Louis, and Baltimore will compete in a pair of "one-and-done" wild-card games Friday. The winner of the Baltimore-Texas matchup will meet the Yankees in one American League divisional series, while the Atlanta-St. Louis victor gets Washington in a National League divisional series. Those two divisional series will start on Sunday.
---