Charles Tillman: Baby to come Monday, he'll play Sunday
Charles Tillman baby: Chicago Bears cornerback Charles Tillman says his wife will give birth to their third baby on Monday, allowing him to play Sunday. A controversy erupted when Tillman said he might miss Sunday's game against Houston.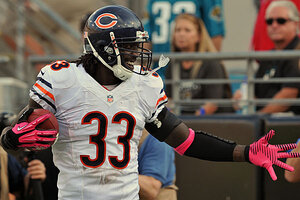 (AP Photo/Stephen Morton)
Fathers, mothers, and Chicago Bears fans can relax now.
Charles Tillman has tweeted he will play in Sunday's game, and that his wife will deliver their third child on Monday.
@mikeandmike god, family, football… Baby is coming Monday don't worry I'll be there Sunday.

— Charles Tillman (@peanuttillman) November 8, 2012
We're not sure how he can make such a guarantee. But Tillman's comments during a radio interview with a Chicago station became a hot topic in the sports world when he suggested Wednesday that the birth of his child would take precedent over showing up for his job. It sparked conversations on talk radio and in social media about work and family priorities.
"The wife is due any day, so hopefully this baby can stay in until after the game on Sunday," Tillman said.. "but if she comes Sunday, I think I'm going to have to be at the hospital Sunday."
Tillman said later the same day, in discussing his attendance at a previous birth, "[Football will] always be second or third in my life. That was a great lesson learned, to teach me that family — when I'm done playing football — my family will always be there for me."
Tillman was the Bears' defensive player of the month in October, and the league leader in forced fumbles (seven). He also has two interceptions, and two touchdowns on the season. His presence would likely be missed in big game against the Houston Texans, who are 7-1.
Both the Bears and Texans are 7-1 and leading their respective NFL divisions, the Bears the NFC North and the Texans atop the AFC South.
---