First NFL tie since 2008, between Rams and 49ers: What is this, soccer?
First NFL tie since 2008 happened because of overtime rules that don't often come into play. But Sunday's game between the St. Louis Rams and San Francisco 49ers wasn't without drama.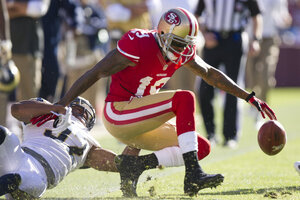 Paul Kitagaki Jr./The Sacramento Bee/AP
It turns out sudden death isn't always, as the St. Louis Rams and San Francisco 49ers found out Sunday when they played to a dramatic disappointment: a 24-24 draw, the first NFL tie since 2008.
Fans scratched their heads, bookies tore their hair, and players didn't know what to feel, so both teams sulked. After all, ties are for soccer, right?. Baseball players will play extra inning after extra inning in search of a W. Even the National Hockey League, which resides in the basement of the Big Sports, decided to get rid of ties by instituting a regular-season shootout – a reflection that lower-skilled teams had begun, in unsportsmanlike style, to play for ties instead of wins.
Football, culturally, isn't supposed to end without a winner. It's just, well, downright un-American, as could be sensed by the frustration of players. "It just feels like it's unfinished business," San Francisco cornerback Tarell Brown told reporters.
Before 1974, ties were actually commonplace in the National Football League, with rules that legislated that only playoff games had to be decisive.
---