Army-Navy: Honoring tradition, football and otherwise
The annual Army vs. Navy game is one of the nation's oldest football rivalries, dating back to 1890. The football teams from the US Military and US Naval Academies honor all those who came before them.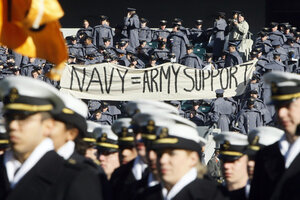 Matt Slocum/AP/File
The 113th edition of Army-Navy football takes place Saturday in the City of Brotherly Love, which is appropriate since the young men who will play on the gridiron will ultimately be brothers-in-arms defending the United States.
And like most brothers, the two teams will compete fiercely for 60 minutes (if not more), then salute each other's academy. For those of you who haven't traveled to either West Point or Annapolis, you owe it to yourself to take a regular season game at both locations (these days, the Army-Navy game is not played at either campus).
The US Military Academy in New York state sits on a bluff high above the Hudson River, 50 miles north of New York City. When I visited in the mid-1990s, the foliage around Michie Stadium was a cavalcade of color. The 'Long Gray Line' of cadets marched smartly on the campus parade grounds, prior to the football game. Statues of some of this nation's greatest generals watch over all. And the sounds of the game - everything from Howitzers firing to salute Army touchdowns to traditional marches performed by the Army cadet band - are impressive.
---