NFL playoffs: Are rookie QBs outliers or start of a new era?
Rookie quarterbacks Andrew Luck, Robert Griffin III, and Russell Wilson will each start in the NFL playoffs Sunday. They point to changes in the game – but also to unique talents.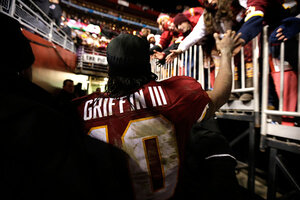 Evan Vucci/AP
We thought this would be a good rookie quarterback crop in the NFL. But this good? This soon?
Forget the New Orleans Saints' Bountygate, the replacement referees, and the rest. The best story in the NFL this season has been a 2012 quarterback draft class that has come into the league with an unprecedented amount of responsibility and expectation heaped upon it – and outperformed.
In Sunday's Wild Card playoffs, three of the four quarterbacks will be rookies: Andrew Luck of the Indianapolis Colts faces the Baltimore Ravens, while Robert Griffin III of the Washington Redskins will face off against Seattle Seahawks and Russell Wilson.
The debut seasons of this Big 3 – with Luck and Griffin drafted No. 1 and 2 overall, and Wilson much later in the third round – haven't merely been good. They've been historic.
Having a winning campaign as a rookie is a rare surprise, particularly for the first-rounders who generally go to struggling teams. (Only nine first-round rookie QBs have had winning records during the past 40 years). The last time three spearheaded winning teams in the same season and made the playoffs? Try never.
---