Oprah interview: Can Lance Armstrong rehabilitate his image?
Lance Armstrong has a very steep hill to climb to regain any measure of public favor, given his past transgressions. But the Oprah Winfrey interview can be a start, image experts say.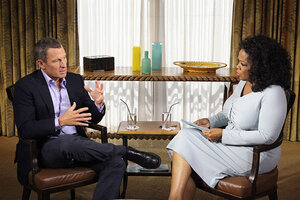 George Burns//Courtesy of Harpo Studios, Inc./AP
Can Lance Armstrong rehabilitate his image?
Yes, say public relation and image specialists. Think Marion Barry – the Washington mayor caught on video smoking crack in a room with a prostitute, who came back to be reelected. Or Bill Clinton, who was dubbed "the comeback kid" for politically surviving sexual peccadilloes more than once. Or Tiger Woods, who is now the No. 2 ranked golfer in the world and who may regain some sponsorships.
Americans are extremely forgiving, they say.
For Lance Armstrong, however, the list of "yes, buts" is long, including both image and legal problems. His repeated denials of having used performance-enhancing drugs, together with his efforts to legally and emotionally bully those who suggested otherwise, make him a particularly hard case.
The issue arises because Armstrong reportedly confessed to using performance-enhancing drugs in an interview with Oprah Winfrey that will air in a two-part special Thursday and Friday on Winfrey's OWN network. In October, Armstrong was slapped with a lifetime ban from professional cycling on the heels of a 1,000-page report last year by the United States Anti-Doping Agency (USADA). The report chronicled an elaborate, 15-years-long doping program led by Armstrong and involving a long list of performance enhancers from steroids to blood boosters such as EPO.
"To rehabilitate his image, he needs to do many things, and he must do them without a quid pro quo that it will lead to any exoneration," says Len Shyles, professor of communication at Villanova University. "He owes many apologies to many individuals and interests. Unfortunately a liar, a cheat, and a thief, he defrauded businesses and people of millions of dollars and some may have been severely damaged. He systematically ruined the lives of other cyclists and private citizens, costing them their reputations and many dollars defending themselves from lawsuits."
Where Armstrong must begin, say several analysts, is reestablishing some small measure of trust and integrity.
---