Harbaugh Brothers in Super Bowl: why HarBowl I will be awesome
Harbaugh Brothers Jim (coach of the San Francisco 49ers) and John (coach of the Baltimore Ravens) will face each other in the Super Bowl XLVII. Just don't expect any brotherly love.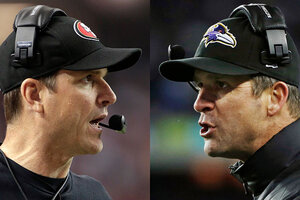 Mark Humphrey, Matt Slocum/AP
By now, we all know that Super Bowl XLVII will be the first ever HarBowl – with two brothers (John and Jim Harbaugh) coaching against each other.
If that bit of trivia misleads you to think that his might lead to a Super Bowl of fraternal goodwill, then you clearly don't know Jack – Harbaugh, that is, patriarch of the Harbaugh clan.
It would seem that Jack Harbaugh did not raise his sons to be good losers – or good winners, for that matter. When the Jim-coached San Francisco 49ers defeated the Detroit Lions two years ago, Jim nearly got into a fist-fight with the opposing coach. It was meant to be a consoling handshake.
As if.
One might imagine Thanksgiving at the Harbaugh house, with Big John setting a poor bird in the middle of the table and then telling his sons to go at it with carving knives flashing. The Feb. 3 Super Bowl between Jim's 49ers and John's Baltimore Ravens could be the first to feature coaches wearing eye black.
Yes, they're just that intense.
Take Jim, who in Week 13 decided to sacrifice his starting quarterback in a rite that would have pleased the ancient Aztecs. Bear in mind that the starting quarterback, Alex Smith, was the top-rated quarterback in the league when he had gotten a concussion three weeks earlier. And bear in mind that Colin Kaepernick, the player who replaced him, was a second-year pro who had been drafted in No. 36 in 2011.
Five quarterbacks were drafted before Kaepernick in 2011 – and this in a draft that was supposed to be quarterback-poor. This was the guy who was going to lead the 49ers to the Super Bowl?
Yes, in fact, it was, as Jim will no doubt tell you – with a little scowl thrown in.
Or how about John, who manages to look outraged when his defensive backs are flagged for nearly decapitating opposing receivers? Yes, the National Football League is trying to become a safer league, but it doesn't appear as if that note made it to Ravens headquarters. If the Ravens win on Feb. 3, it might be the first time that a team has been promised that it can feast on the carcasses of the vanquished after the final whistle.
Perhaps the Brothers Harbaugh should wear shoulder pads for the post-game handshake.
In all seriousness, the indications are that John and Jim and Jack are one happy family. But the chances of that taking any competitive edge off the Super Bowl are about the same as President Obama announcing that he's going hunting for deer with Paul Ryan over Super Bowl weekend. With a semiautomic rifle loaded with several high-capacity magazines.
---