Australian Open: Azarenka does it again, but was Li crowd favorite?
For the second year in a row, Victoria Azarenka, from Belarus, won the Australian Open. The match, against China's Li Na, was emotional and tension-filled. Li fell to the court twice, but fought to the end.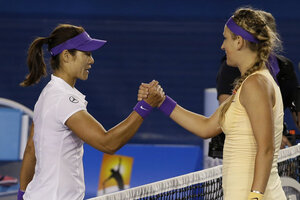 Andy Wong/AP
Victoria Azarenka won her second consecutive Australian Open title, beating Li Na 4-6, 6-4, 6-3 in a dramatic final that contained a break for fireworks, two medical timeouts and a nasty fall to the court by Li.
The Chinese star first tumbled to the court after twisting her left ankle in the fifth game of the second set and had it taped.
On the first point after a 10-minute pause in the third set while fireworks boomed overhead from nearby Australia Day celebrations, Li fell over again and slammed the back of her head on the court. The 2011 French Open champion was treated immediately and had another timeout before being allowed to resume the match.
Azarenka, who broke down in tears and sobbed into her towel when the match ended, won five of the next six games to claim her second major title and retain the No. 1 ranking.
"Unfortunately, you have to go through some rough patches to achieve great things. That's what makes it so special for me," she said. "I went through that, and I'm still able to kiss that beautiful trophy."
Serena Williams, who lost in the quarterfinals, will become the new No. 2 in the rankings.
The 2-hour, 40-minute match featured 16 service breaks, with Li losing her service nine times.
On a crisp Saturday night, Azarenka won the coin toss and elected to receive, a ploy that seemed to work when a nervous Li was broken to start the match. After a double fault on the first point, Li's forehand long gave Azarenka the early lead.
---