Australian Open: Djokovic trounces Murray, makes history
Novak Djokovic, of Serbia, won his match against friend and rival, Britain's Andy Murray Sunday night, to take his third consecutive Australian Open title.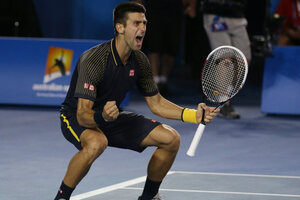 Aaron Favila/AP
Novak Djokovic returned to his dominant best, becoming the first man in the Open era to win three consecutive Australian titles when he beat Andy Murray 6-7 (2), 7-6 (3), 6-3, 6-2 on Sunday night.
Nine other men had won back-to-back titles in Australia since 1968, but none were able to claim three in a row.
"I love this court," Djokovic said. "It's definitely my favorite Grand Slam. It's an incredible feeling winning this trophy once more."
He has won four of his six majors titles at at Melbourne Park, where he is now unbeaten in 21 matches.
Born a week apart in May 1987 and friends since their junior playing days, the two played like they knew each other's game very well in a rematch of last year's U.S. Open final won by Murray. There were no service breaks until the eighth game of the third set, when Djokovic finally broke through and then held at love to lead by two sets to one.
Djokovic earned two more service breaks in the fourth set, including one to take a 4-1 lead when Murray double-faulted on break point.
The 25-year-old Serb didn't rip his shirt off this time, as he did to celebrate his epic 5-hour, 53-minute win over Rafael Nadal in last year's final. He just did a little dance, looked up to the sky and then applauded the crowd after the 3-hour, 40-minute match.
Murray's win over Djokovic in the U.S. Open final last year ended a 76-year drought for British men at the majors, but he still is yet to make a breakthrough in Australia after losing a third final here in the last four years.
---