Super Bowl XLVII: Beyond the coaches, Ravens and 49ers share similarities
Super Bowl XLVII contenders Baltimore and San Francisco have more in common than just the Harbaugh brothers. The Ravens and 49ers have similar defenses, and high-powered offenses.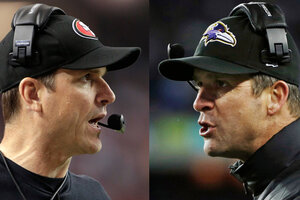 Mark Humphrey, Matt Slocum/AP
Sunday's matchup in Super Bowl XLVII between the Baltimore Ravens and San Francisco 49ers promises to be an intriguing contest, as each coaching staff probes for weaknesses in the opponent to exploit. This is a weekly occurrence in the National Football League, but with two evenly-matched teams on the biggest stage, the in-game coaching adjustments will be critical to the outcome.
A closer look at the Ravens and 49ers finds more similarities than differences. Starting on the defensive side of things, both franchises have swarming, aggressive squads intent on stopping the opponent's offense. The 49ers and Ravens both run a 3-4 defense. The 49ers have an imposing trio of linemen, highlighted by defensive tackle Justin Smith. Outside linebacker Aldon Smith (not related) led the team this season in quarterback sacks with 19.5. The man in the middle is linebacker Patrick Willis, with a tough secondary behind him to defend against an aerial assault.
The Niners defense ranked third in the NFL this season, Baltimore ranked 17th. But the Ravens' Ray Lewis brings inspiration and experience.
---