Olympics move to drop wrestling: What is the IOC thinking?
The International Olympic Committee executive board recommended dropping wrestling from the Summer Olympics, beginning in 2020. The decision does not cast the IOC in a good light.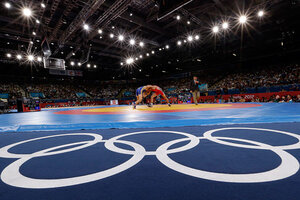 Paul Sancya/AP/File
The International Olympic Committee's executive board on Tuesday showed the world that the organization is still struggling to outgrow its reputation as a cabal of out-of-touch elitists.
By recommending the elimination of wrestling from the Summer Olympics program beginning in 2020, the IOC executive board made a decision that was so wildly wrong-headed that it exposes the movement to ridicule and allegations of foul play.
Wrestling is a staple of the modern Games, not only because it was included in the 1896 Athens Olympics, but also because it so vividly evokes the imagery of the ancient Games upon which the modern version is built. With the exception of the marathon, it is possible that no single sport is more intimately intertwined with the origins of the Olympics than wrestling.
The motive behind the IOC's decision was not bad. The organization wisely wants to rein in the size of the Summer Games, which have become bloated beyond all reckoning. Even the London Games, which made an unprecedented effort to spend wisely, cost $14 billion.
But to think cutting wrestling is the answer to that problem strains credulity. Among the sports still on the Summer Olympics program: canoeing, handball, judo, modern pentathlon, shooting, and taekwondo. Do any of those sports, despite their individual merits, deserve to be in the Olympics more than wrestling?
Attention has focused most on taekwondo and modern pentathlon, a sport so obscure that many (perhaps most) viewers don't know it exists, much less what it is. By keeping these sports at the expense of wrestling, the IOC has shown that efforts at self-reform perhaps need more work.
After the Salt Lake City Games, when IOC members were shown to have accepted bribes in order to support the city's Olympics bid, the IOC sought to demonstrate that it could root out corruption. But why would it keep taekwondo, a sport widely seen as being insignificant outside South Korea, if not to appease Samsung, the South Korean technology company that is a major Games supporter? The illogic of the decision has already prompted questions.
---