NCAA men's basketball tournament: Early predictions and early upsets
Mark your brackets: The NCAA Men's basketball tournament start today in earnest. Games begin at 12:15 p.m. EDT Thursday and are being broadcast on TruTV, TNT, TBS, and CBS.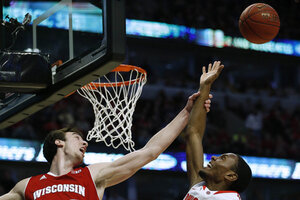 Jim Young/REUTERS
This year's NCAA men's basketball tournament promises to be one of the most open fields in its 75-year history, with really no dominant No. 1 seed.
Of the four No. 1 seeds, all of which are deserving of that ranking in their own way, the most questionable is Gonzaga, coming out of the West region.
The NCAA admitted this was a "reward" for the West Coast Conference mid-major squad; but high seeds come with high expectations. Some have argued that Miami (FL) was more deserving, having won the ACC tournament and also having beaten Duke by 27 points in one game and North Carolina by 26. That should have the benefit of taking some of the pressure off the Hurricanes, who should go deep into the tournament, with nominal competition until the Sweet Sixteen, when they may face a team like Marquette.
The Midwest region is the toughest bracket in the tournament, by far. With teams like Louisville (1), Duke (2), Michigan State (3) and Saint Louis (4), this will likely eliminate some major competition for the other regions by the time the Sweet Sixteen rolls around. The winner of that region will likely be the favorite to win it all. Michigan State is a perennial "tough out" and in a matchup with the high-scoring Peyton Siva-led Louisville Cardinals, Michigan State should advance.
Of course, there will be upsets, and the 5-seed versus 12-seed games are a great place to start looking. In the Midwest region, Oregon (12) plays No. 5 Oklahoma in San Jose, and it should play like a home game for the Ducks, who were vastly under-seeded – having won the Pac-12 tournament and compiling a 25-9 record for the season. Oregon should move easily to the next round.
---