Mark Cuban: Brittney Griner could play in the NBA
Mark Cuban: Brittney Griner would get a shot at joining the Dallas Mavericks says the owner. Mark Cuban said: 'If she is the best on the board, I will take her.' Brittney Griner responded: 'I will hold my own!'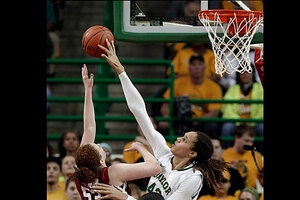 (AP Photo/LM Otero, FIle)
Mark Cuban says he'd give Baylor All-American Brittney Griner a shot at making his NBA team.
Here's what the owner of the Dallas Mavericks said before Tuesday night's game against the Los Angeles Lakers, according to ESPN:
"If she is the best on the board, I will take her. I've thought about it. I've thought about it already. Would I do it? Right now, I'd lean toward yes, just to see if she can do it. You never know unless you give somebody a chance, and it's not like the likelihood of any late-50s draft pick has a good chance of making it."
Griner responded on Twitter Wednesday: "I would hold my own! Let's do it."
For those who have been out of the country (or have been lodging under a rock) in recent weeks, Brittney Griner is a Baylor University phenom. At 6-feet 8-inches, she's taller than many NBA men. As a college player, she lead the NCAA in blocked shots (721) this year, and had the second-most points (3,123) scored ever in women's college basketball. And Griner has an NCAA women's record 14 career dunks to her credit.
---