Rutgers fires coach Mike Rice for abusing players: Will more heads roll?
Senior administrators at Rutgers were aware of a videotape of the Mike Rice tirades against players, but opted not to fire him. That decision is under heavy scrutiny now.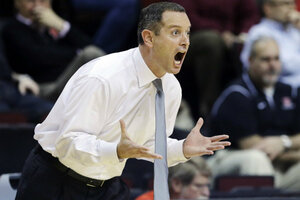 Mel Evans/AP/File
Rutgers acknowledged the inevitable on Wednesday and fired basketball coach Mike Rice after ESPN broadcast video showing him throwing basketballs at the heads of players, shoving them around the court, and belittling them with a stream of expletives, including antigay slurs.
New Jersey Gov. Chris Christie (R) had reacted with outrage to the video revelations, perhaps foreshadowing today's dismissal.
"This was a regrettable episode for the University, but I completely support the decision to remove Coach Rice. It was the right and necessary action to take in light of the conduct displayed on the videotape," said Governor Christie, in a statement Wednesday afternoon.
The question now is whether more heads will roll. Pressure to get rid of Rutgers athletic director Tim Pernetti and president Robert Barchi appeared to be on the increase, even as Mr. Rice lost his job.
That's because a former employee gave Mr. Pernetti the same video last November. After viewing it and having it analyzed by outside investigators, the AD suspended Rice for three games and fined him $50,000 – a punishment that, in the light of full disclosure, looks to have been too lenient.
After all, the only fact of the case that has changed since then is that the whole world has seen what Pernetti already knew. Yet, suddenly, that's bad enough for the coach to lose his job, when it had not been before.
---