Tim Tebow: Why an athlete, finally, made the cut as a 'Great Floridian'
Tim Tebow joins a distinguished group of 'Great Floridians,' including Thomas Edison and Spanish explorer Pedro Menendez, but, until now, no athletes. Could it be a calculated political move by an unpopular governor in an election year?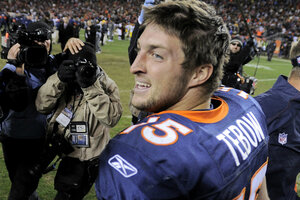 Mark Leffingwell/Reuters/File
'Great' Floridians: Thomas Edison, Zora Neale Hurston, Tim Tebow?
Things haven't been going great for Mr. Tebow in New York. But once the Jets cut him loose (and they will, eventually), he's got a bit of good news waiting for him back in his home state.
Today, Tebow will be honored with a "Great Floridian" distinction by Florida Gov. Rick Scott (R). The ceremony will take place at Tebow's charity golf tournament, the Tim Tebow Celebrity Gala and Golf Classic in Ponte Vedra Beach, Fla., on Friday.
The honor is "presented annually in recognition of the outstanding achievements of men and women who have made significant contributions to the progress and welfare of this state," according to the Florida Division of Historical Resources.
OK, so it's not an Oscar, a Nobel Prize, or even a Heisman Trophy (which he already has). Winners don't get much more than a round of applause and a plaque hanging somewhere in the state Capitol. But in becoming a Great Floridian, Tebow joins fairly exclusive company.
---