NFL Draft 2013: The next generation of NFL stars takes the stage
The 2013 NFL Draft kicks off Thursday night at Radio City Music Hall in New York City.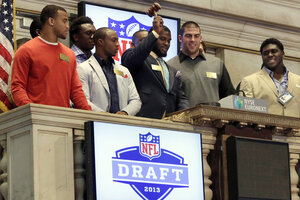 Richard Drew/AP
The newest crop of pro football talent will be on display starting Thursday night in New York when the National Football League begins its annual college player draft.
A number of draft experts, like Mike Mayock of the NFL Network, foresee a variety of position players being drafted early. Offensive linemen, such as Luke Joeckel of Texas A&M and Central Michigan's Eric Fisher, could be selected in the first two picks of the draft.
All 32 NFL teams will have a chance to restock their rosters with rookies. The San Francisco 49ers, the defending NFC champions, have the most draft picks with 13. The Super Bowl-champion Baltimore Ravens are looking at a dozen draft picks.
Four teams, the Carolina Panthers, Chicago Bears, New England Patriots, and New Orleans Saints, will have the fewest picks with five, as it stands now.
---