NBA playoffs: Thunder and Pacers win conf. semifinal opening games
The Indiana Pacers and the Oklahoma City Thunder defeated, respectively, the New York Knicks and Memphis Grizzlies in NBA conference semifinal playoff action Sunday.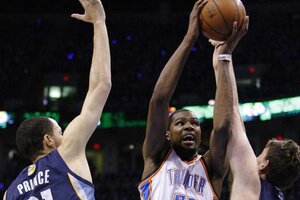 Alonzo Adams/AP
Durant Heroics Captures Game 1 for Thunder
The Memphis Grizzlies have earned the reputation over the years as a "grind it out" club that may not win with razzle-dazzle, but can hold its opponents' offense in check enough to consistently win games. But Sunday, in Game 1 of the NBA's Western Conference semi-finals, Oklahoma City's Kevin Durant defied the conventional wisdom, by scoring 12 fourth quarter points – including a knockout jumper with 11.1 seconds remaining in the game – to defeat Memphis, 93-91, in Oklahoma City.
All told, Durant had an exceptional performance – scoring a total of 35 points to go with fifteen rebounds and five assists and by earning his fourth game-tying or -winning shot in playoff competition, demonstrating once again that he's the man who deserves the ball when the game is on the line. Durant hit six of the Thunder's last seven baskets for an Oklahoma City squad that connected on only 41% of its field goals for the afternoon (the Grizzlies besting them by one percent in that category), though Memphis only hit a third of its shots in the crucial fourth period. The Grizzlies were also stymied on the offensive boards, grabbing only eight of their own rebounds all afternoon which, for the game, resulted in only four second-chance Memphis points.
---