NBA playoffs: Bulls, Spurs win opening games in conference semifinals
Monday night, Chicago defeated the Miami Heat. San Antonio needed two overtimes to best the Golden State Warriors in their respective Eastern and Western Conference semifinal opening games.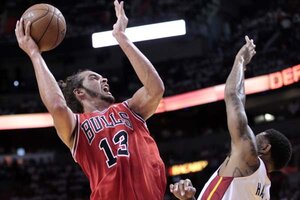 Joe Skipper/REUTERS
Nate Robinson comes up big in extinguishing the Heat
Nate Robinson scored 27 points, including three three-pointers to lead the visiting Chicago Bulls to a 93-86 victory over the Miami Heat in the first game of their Eastern Conference semifinal Monday night at the American Airlines Arena. Robinson joined four teammates in double-figure scoring and was the spearhead for a relentless, yet balanced Bulls offensive attack.
Miami, led by newly minted four-time MVP LeBron James, allowed Chicago to rack up 35 points in the fourth quarter, erasing a seven-point deficit – and were themselves held to only 1 point in the last three minutes of the game. Robinson, who required 14 stitches to his lower lip after a collision with James while diving for a ball in the first half, left temporarily, but made his presence known both on the perimeter and inside the lane in the last two quarters.
Starters Marco Bellinelli, Joakim Noah and Jimmy Butler, along with bench specialist Taj Gibson, scored a combined 56 points to supplement Robinson's performance, and outrebounded the Heat, 46-32 – led by Butler's 14 (12 of them defensive). The Bulls' tenacity was particularly striking when one considers they were without star guard Derrick Rose and big man Luol Deng – two perennial difference-makers for Chicago come playoff time.
---