NHL playoffs: Bruins, Rangers advance in very different Game 7 victories
The Boston Bruins and New York Rangers will continue the Stanley Cup quest after both teams won Monday night. One game featured a comeback for the ages, while the other was surprising for another reason.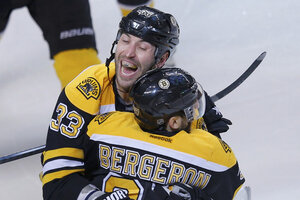 Brian Snyder/REUTERS
The first round of the National Hockey League playoffs ended Monday night with a pair of wild games featuring two of the league 'Original 6' franchises moving into their conference's semifinal round.
The Boston Bruins, having lost two straight games to the Toronto Maple Leafs, found themselves trailing, 4-1, midway through the third and final period of Game 7 in Boston. Somehow, at that moment, the Bruins decided to put up a fight and found a way to score four straight goals in defeating the Maple Leafs, 5-4, in overtime.
Boston forward Nathan Horton's goal with 10:42 left in the game made it 4-2, Toronto. Then, linemate Milan Lucic popped home the rebound of a shot, closing the gap to 4-3 with 1:22 left in regulation. Finally, center Patrice Bergeron completed the historic comeback with just over 50 seconds remaining when his wrist shot beat Leafs goalie James Reimer, tying the score at four goals apiece.
Lucic, a Boston fan favorite due to his physical play on the ice, attributed the comeback to perseverance.
---