Pacers, Spurs win easily to take control of NBA playoff series
Indiana has a commanding 3-1 lead over the Knicks in their Eastern Conference semifinal series. Meanwhile, San Antonio enjoys a 3-2 lead over Golden State in their Western Conference semifinal.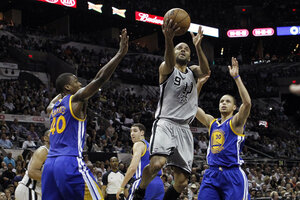 Mike Stone/REUTERS
Hill Comes Up Huge in Pacers' Shutdown of Knicks
The New York Knicks have been completely thrown off balance during their Eastern Conference semifinal series with the Indiana Pacers, and Tuesday night was yet another textbook case of that as the Pacers rolled to a 93-82 victory at Indianapolis' Bankers Life Fieldhouse. Indiana is now within one victory of moving on to the conference final for the first time since 2004. Various quarters have referred to the Knicks' performance in this game as a "flop," "ugly," and "dreadful" – all of which easily applied.
The Pacers took charge early by hitting the boards hard, grabbing 54 rebounds to New York's 36, with Indiana's David West, Roy Hibbert and Paul George each pulling down 10 or more ( 35 as a group). The Pacers' George Hill had a double-double, scoring 26 points on 9-of-14 shooting and adding a mammoth 14 rebounds and 7 assists in leading Indiana's athletically superior attack – one that saw five Pacers players score in double-figures. And supplementing that juggernaut was Lance Stephenson's three well-timed three-balls.
---