Heat, Grizzlies advance to respective NBA conference finals
Miami defeated the Chicago Bulls Wednesday night to win their Eastern Conference semifinal series, while Memphis reached its very first Western Conference final by defeating the Oklahoma City Thunder.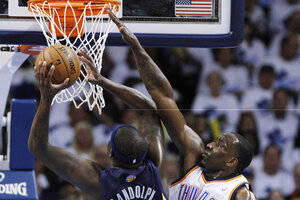 Alonzo Adams/AP
Memphis advances to first-ever Eastern Conference Final
The Memphis Grizzlies, led by NBA defensive player of the year Marc Gasol, held off a late surge by the Oklahoma City Thunder Wednesday night en route to an 88-84 victory and a four games to one Western Conference semifinal series win – their first-ever trip to the conference finals. The Grizzlies got mammoth production from big man Zach Randolph, who had 28 points and 14 rebounds. Memphis guard Mike Conley had 13 points and 11 assists to put away the Thunder in front of the 113th consecutive sellout crowd at Chesapeake Energy Arena in Oklahoma City.
Without the added perimeter threat of Russell Westbrook, there was just too much pressure on Oklahoma City's Kevin Durant, who was held to only 21 points – he went 0-for-6 during the first quarter and finished 5-for-21 from the floor – his third worst shooting percentage ever in a playoff game. He was guarded for a majority of the contest by the Grizzlies' Tayshaun Prince, who stuck to him like fly paper.
---