MLS deal with billionaire oil sheikh could be bigger than Beckham
Two global sports titans, Manchester City Football Club and the New York Yankees, will operate New York City FC, an expansion MLS team. It brings to the table an oil sheikh's fortune.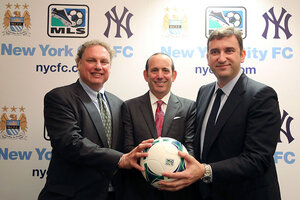 Mary Altaffer/AP
Two of the most deep-pocketed teams in world sport – Manchester City of the English Premier League and the New York Yankees of Major League Baseball – have agreed to pay $100 million to own and operate a new professional soccer team in New York City starting in 2015.
Major League Soccer Commissioner Don Garber could probably read that sentence all day.
The news is potentially so significant for the still-fledgling league that it's hard not to see it as an announcement of David Beckhamian proportions.
The owner of Manchester City is Mansour bin Zayed Al Nahyan of Abu Dhabi, a sheikh who, in his first four years of owning the club, spent more than $1.5 billion of his petro-fortune to turn City from bumbling underachievers into Premier League champions for the first time in 44 years. And there are whispers that that was just a warmup act for an American adventure.
Manchester City, after all, are not Manchester United – their cross-town rivals who have won a record 20 league championships and are the most profitable sports franchise in the world. They are not Real Madrid or Barcelona or even Bayern Munich – pillars of European soccer whose success is measured over generations. European soccer, Wall Street would say, is already a mature market, and City are for now still just scheming upstarts.
Yet in New York City Football Club, Mansour has an opportunity to do something altogether more momentous: to make soccer relevant in America.
To be sure, Beckham played his part. But his six-year sojourn was never likely to be enough. Though MLS has come a long way since his arrival in 2007 – it now draws more fans to each game, on average, than do the National Basketball Association or National Hockey League – it still has a long way to go. It's televised games, for example, draw a 0.2 rating – less than a recent broadcast of US Grand Prix skiing.
---