Javascript is disabled. Quiz scoring requires Javascript.
Test your St. Louis Cardinals baseball IQ
St. Louis has a reputation as perhaps the best baseball city in America because of the competitiveness of the Cardinals and the loyalty of their fans. If you're among them, or even you just want to test your baseball knowledge, try answering these 25 questions.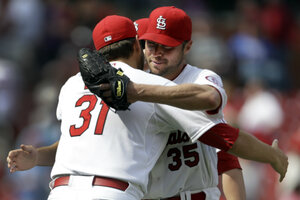 JEFF ROBERSON/AP
1.

Before there was a Busch Stadium (either the old ballparks or the new one), where did the Cardinals play their home games?