Heat humble Pacers in Game 7, advance to NBA Finals again
Miami defeated Indiana Monday night in Game 7 of the NBA Eastern Conference finals. The Heat now moves to the NBA Finals for the third consecutive year.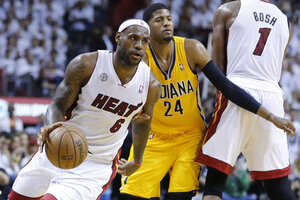 Joe Skipper/REUTERS
LeBron James had 32 points and Dwyane Wade added 21 to lead the Miami Heat to a 99-76 victory over the Indiana Pacers in Game 7 of the NBA's Eastern Conference finals Monday night at American Airlines Arena. The Heat now move on to their third consecutive NBA Finals, where they will meet the San Antonio Spurs in Game 1 on Thursday night.
James has shown over the years that he lives for Game 7s, where he always scores well, and Monday night was no different. He finished just 2 ½ points under his career average in seventh and deciding matches.
The Pacers, who won the first quarter 21-19, became turnover happy, and by the end of the half were behind by a whopping 15 points. In addition to the deficit, the Pacers committed 15 of their turnovers in the first two quarters, and took 15 fewer shots.
A big problem for Indiana Monday night was the obvious frustration of Paul George, who fouled out in the last quarter tallying only 7 points and hitting only 2 of 9 shots. He just couldn't handle James, who in addition to making 8 of 17 field goals, got to the foul line 16 times, hitting 15 of his charity shots. James in fact has been working out on the free throw line this year with teammate Ray Allen, who's perennially one of the best free throw shooters in the NBA, and James has made it clear in recent months that his great improvement in this area is no fluke.
And speaking of Allen, he came off the bench for 10 very helpful points – including three 3-pointers. However, Chris Bosh continues his offensive struggles. He was only 3-of-13 Monday night, but did manage to block 3 shots.
---