Blackhawks-Bruins Stanley Cup final not for the faint of heart
The Chicago Blackhawks face off with the Boston Bruins in Game 1 of the Stanley Cup final Wednesday night. Get ready for some meat-grinder hockey.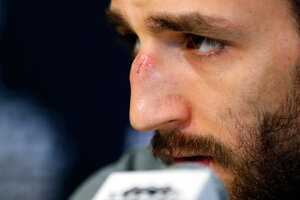 Jeff Haynes/Reuters
It is possible, one might even say probable, that when the handshakes come after the end of the Stanley Cup finals – whenever that might be – the Chicago Blackhawks and Boston Bruins might genuinely respect the players across from them.
After all, when that handshake line forms, each team will feel as if it is looking into a mirror.
The Blackhawks might have the more talented forwards. The Bruins might have the better goaltender. But both teams, at their core, are about lunch pail hockey. Every night, they come to the arena, strap on their helmets, and battle for every square inch of ice.
Get ready for a 200-foot war.
This, of course, is what the Bruins are known for. With their Stanley Cup win in 2011, they brought wide-body hockey back to the National Hockey League. By the end of that 2011 finals, their opponents, the Vancouver Canucks, looked as though they'd been run through a trash compactor. Seven times.
The Bruins' largest player, the 6-foot, 9-inch defenseman Zdeno Chara, is a condor on skates – once you enter the offensive zone, you are within his reach. The Bruins' smallest player, Brad Marchand, is known as the Little Ball of Hate. Affectionately, of course.
The Blackhawks, however, are known as something else entirely. They are one of hockey's glamour teams – they of the flowing mullet of Patrick Kane, who treats the entire game like an audition for the shootout competition, and Patrick Sharp, and Marian Hossa, and ... the list goes on.
---